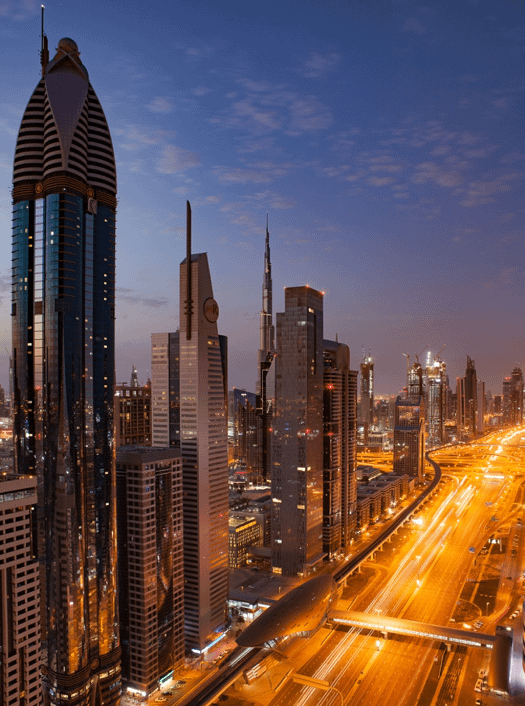 Driving A Car In Dubai: What You Need To Know
Driving a car in Dubai can be quite daunting, as you'll have to deal with very different driving conditions compared to what you're used to back home. The drivers in Dubai can be erratic and irrational, and the layout of the roads can be quite confusing. Nevertheless, most people are able to adjust very quickly and hopefully this comprehensive guide will put your mind at ease. We will also cover the 64,000 (sixty four thousand) dirhams (depending on your budget) question, 'whether to buy or lease a car?'.
Read this article to understand the overall cost of living in Dubai.
Disclosure: If you purchase a product through a link on our site, we may earn a commission. It comes at no extra cost for you but it helps us to create more useful content.
Driving Conditions In The UAE
Local Driving Behaviour
In the UAE, you will often deal with erratic drivers more often than what you're used to back home. However, most people are able to adapt quickly to these challenges, including adjusting to driving on the right hand side of the road (or the wrong side as we like to call it in the UK).
The most irrational behaviour is likely to occur when you're driving on the motorway (highway). Be prepared to be tailgated (now illegal thankfully) at high speed, with an expectation for you to move over immediately, even when it's not safe to do so – yes I am serious! Also remember your right of way is not dependent on your road position, but the size of your car. When behind the wheel you will need to remain alert and vigilant at all times, as some people really do think they are participating in the Abu Dhabi F1 Grand Prix.
Finding Your Way Around Dubai In A Car
The layout of Dubai roads can be quite confusing for newcomers, so using a sat-nav (also known as a car GPS by our American friends) for driving is definitely recommended. If you miss an exit, it's probably time to listen to the latest episode of your favourite podcast as detours can take up to 20 minutes. Personally, I have always found it far easier to drive in Abu Dhabi than Dubai.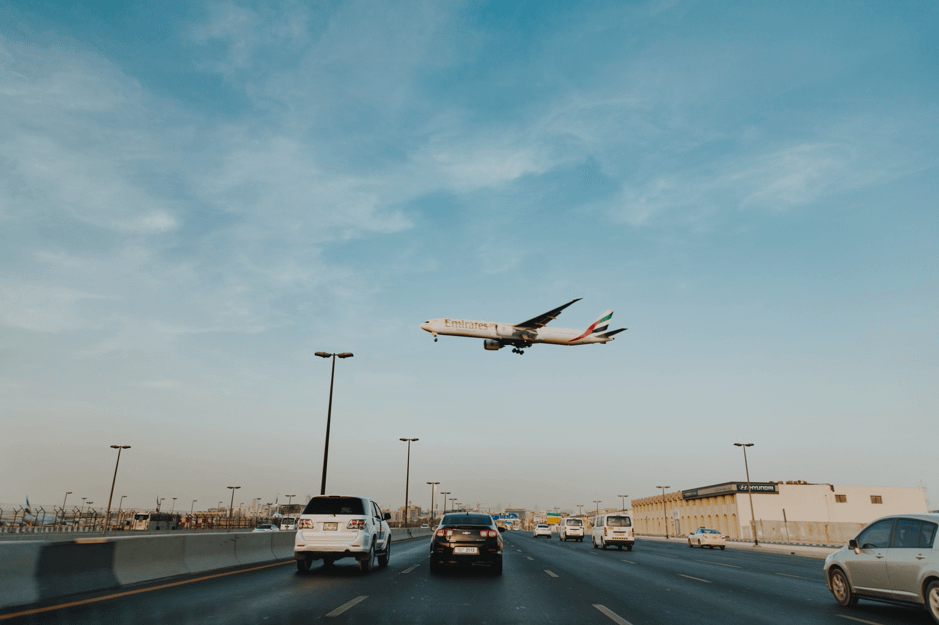 Driving Licence
While you're waiting for your driving licence, you can rent a car like a normal tourist. I recommend using Holiday Autos, as they provide good value for money on car rentals in Dubai.
Although driving in Dubai can be a challenge, a car remains the best way to navigate the UAE. Therefore, getting your local licence still remains a top priority for many expats. You can apply for a UAE driving licence if you've received your Emirates ID and already have an existing driving licence from one of 50 countries (including the UK and US). You will need to go to the Customer Happiness Centre with the documents mentioned below (and some cash of course):
Your original driving licence and a photocopy
Evidence of an eye test
Original valid Emirates ID
A legalisation translation of your driving licence if the original language is not English or Arabic
Pay AED 870
If you can't transfer your licence (due to your nationality) then you need take a driving test. This can be done by applying to a registered driving institute in the relevant emirate (i.e. Dubai) to attend training classes and then pass all tests. Click here for the official government link on which driving schools you can use for driving lessons.
Buy or Lease A Car?
One of the most common questions asked by UAE expats is whether to buy or lease a car. The answer is very much dependent on personal car preference, family requirements, budget, and most importantly how long one is planning to stay in Dubai. Yes – I am really going to sit on the fence and say 'it depends'. Hopefully, this comprehensive guide will help you identify what option suits you best.
Leasing A Car
Options for Leasing include: Hertz, Thrifty, Dollar and Budget. There are also many local firms that are less reputable and cheaper, but I would personally go for a well-known brand (that has decent online feedback). Below are the pros and cons for leasing a car in Dubai.
Leasing Pros
Leasing a car comes with a huge convenience factor as you only pay a fixed monthly cost
Quite often the car is covered for both insurance and maintenance
A replacement vehicle will be provided in the event of an accident or the car requires maintenance
When leaving Dubai or at the end of the lease, you simply return the car. Although there are likely to be penalty charges if you return before the end of your agreement
The car can be replaced with a different brand very often (based on whatever agreement is in place)
Leasing Cons
The cost of leasing a car often works out more expensive than buying (in the long term)
There is limited choice of makes and models for lease cars
Lease companies add admin fees on top of any speeding fines and parking tickets. It also takes time to be informed of fines/tickets, increasing the risk of repeat fines due to not being aware of new speeding cameras and parking regulations
You don't own the car at any point so at the end of the lease you have to return the car. You won't have the option to sell the car for a tidy sum, when looking to replace the car or leave Dubai.
Buying A Car
The best and safest option for buying a new car is to go to the showrooms, haggle and drive away. I will explain the best approach in more detail later. Options for buying second hand (or even new) cars include – Dubizzle.com, Dubicars, Yallamotors and Al-Futtaim Automall. For the first 3 websites, you are likely to be dealing with individual sellers, so not recommended unless you really know your cars (or one of your friends does). Below are the pros and cons of buying a car in Dubai.
Buying Pros
The vehicle belongs to you so – if bought on finance you officially own it upon completion of all payments
There are a range of options to choose from such as a variety of makes and models, as well as colour and other extras
You can sell the car and receive some money
It generally works out cheaper than leasing in the long run
Buying Cons
It often takes time and can be quite difficult to sell your wheels in Dubai, which isn't great if you have a last minute plan to leave the UAE
You have to pay insurance (~3% of car value) and general maintenance (e.g. servicing) on an ongoing basis
A replacement car is not provided when your vehicle is in for maintenance
You have to pay for any repairs (e.g. engine, electronics, oil, tyres etc.)
Scenarios: Buying vs Leasing
I've done some rough calculations (taking information for car brand websites, Dubizzle etc. ) to ascertain whether buying or leasing a car is the better option in Dubai. When it comes to buying a car, I have assumed that the car has been purchased via a finance deal that will be paid back over a number of years. This highly scientific review will be looking at the following cars:
Toyota Yaris – small and not powerful, but gets you from A to B
Mercedes C Class Sedan (Saloon) – luxury German engineering although it can be expensive to maintain
Nissan Patrol – local favourite and great for sand dune bashing
Toyota Yaris
Buy Yaris
AED 45,000 for a 2020 model
20% down payment – AED 9,000
Remaining Balance to pay – 36,000 AED
Monthly payment (plus interest) – AED 1600 (24 months) or AED 660 (60 months)
Resale value – AED 38,000 (2 years old) or AED 25,000 (5 years old)
Lease Yaris
Monthly Car Rental – AED 1500
Annual Car Rental – AED 18,000
Buy vs Lease (Toyota Yaris)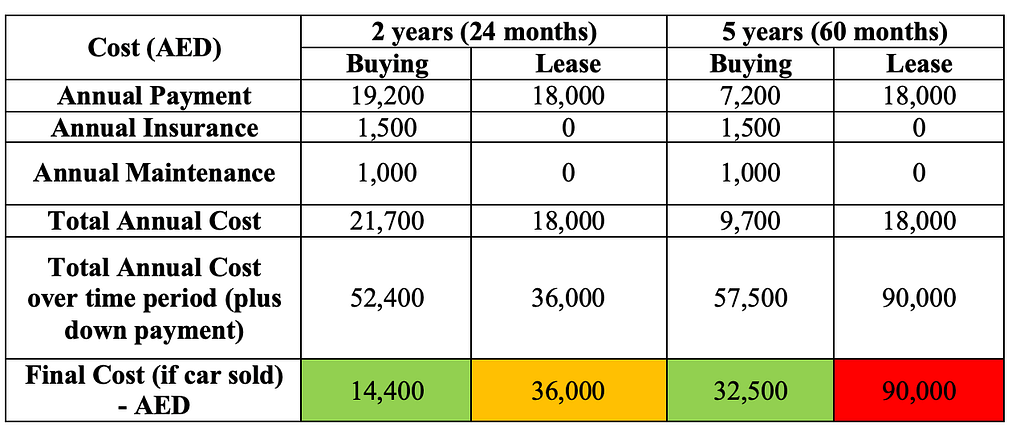 The Yaris is clearly cheaper to lease over a period of 24 or 60 months.
Mercedes C Class Sedan (Saloon)
Buy Mercedes C Class
AED 180,000 for a 2020 model
20% down payment – AED 36000
Remaining Balance to pay – AED 144,000
Monthly payment (plus estimated interest) – AED 6,600 (24 months) or AED 3,000 (60 months)
Resale value – AED 110,000 (2 years old) or AED 80,000 (5 years old)
Lease Mercedes C Class
Monthly Car Rental – AED 3,000
Annual Car Rental – AED 36,000
Buy vs Lease Mercedes C Class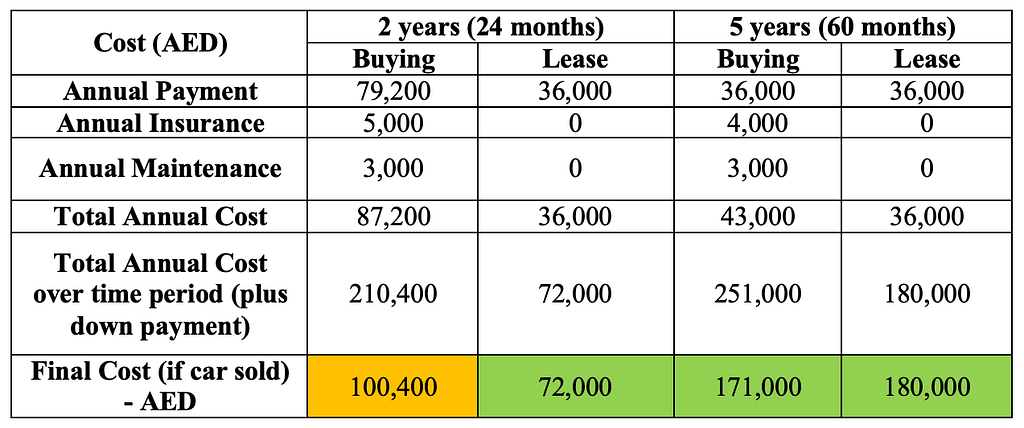 The Mercedes lease over 2 years is actually AED 28,400 cheaper than buying. Over 5 years the difference in buying or leasing the car is almost negligible. This is mainly due to the C Class having a poor resale value in the UAE. The local market notoriously prefers Japanese cars as they are cheaper to maintain. With the huge convenience factor of leasing, it's definitely the better option for the C Class Sedan.
Nissan Patrol
Buy Patrol
AED 200,000
20% down payment – AED 40,000
Remaining Balance to pay – 160,000 AED
Monthly payment (plus interest) – 7,200 (24 months) or 3,200 (60 months)
Resale value – 135,000 (2 years old) or 100,000 (5 years old)
Lease Patrol
Monthly Car Rental – AED 7,500
Annual Car Rental – AED 90,000
Buy vs Lease Nissan Patrol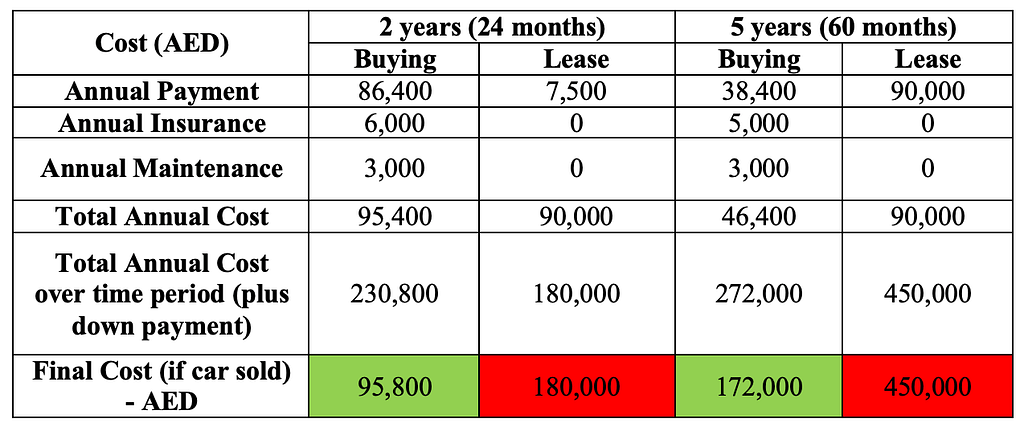 Nissan Patrols have both a high lease cost and resale value. Therefore, there doesn't seem to be a valid reason for leasing this car over a long term period.
Framework For Buying Cars
Below I explain what you need to do when buying a car in Dubai.
Choose The Car You Really Want (And Need)
When buying a car, the first decision has to be what car brand (e.g. Volkwagen) and model (e.g. Golf) do you prefer. I personally find choosing the right car at the right price to be the most difficult decision. The answer is very much dependent on your:
Favourite brand (e.g. Mercedes, Toyota, Nissan etc.),
personal car preference (e.g. hatchback, sedan, SUV, sports car etc.)
family requirements (bachelor, couple or family of 4 etc.)
Budget (of course)
Read Vehicle Reviews And Check Prices
Once you've selected a few different car makes and model (based on your personal needs), it's time to start researching: reading and watching online reviews is normally the easy option. Also find out if any of your chosen cars have common faults, which might be of concern.
Visit Car Dealerships (Or Individual Sellers)
Test drive the chosen cars to give you an idea of how well the vehicle drives and whether actually meets your need. If required, take a friend (petrol head) with you who's passionate about cars. Depending on your commute, you will be spending a significant time amount of time in your car so make sure it's the correct one. It is recommended to only drive GCC spec cars in the UAE, as they will have air filters, radiators, and air conditioners suited to the middle-eastern region.
Negotiate, Negotiate, Negotiate
Most Western Expats find negotiating quite difficult, and are willing to paying the price quoted. However, when you finally found a car you want, negotiate for an appropriate price with the seller/showroom. Never offer the initial quoted price and try to get some form of discount. Buying from car dealers may enable you to get additional discounts if you choose last year's model (with zero mileage) or a second hand car. If possible, you should try to request for warranty and servicing to be covered for a number of (e.g. 3-5) years or mileage (e.g. 50-100k). Once a price has been agreed, don't hand over any cash just yet, request a pre-purchase garage check.
Pre-Purchase Garage Check
Pick a reputable independent garage for a pre-purchase checkup to identify any issues the car may have. Don't use a garage recommended by the seller.
Drive Off Into The Sunset
If the car does not have any major issues, then the next step is to purchase the vehicle and drive home in your new car!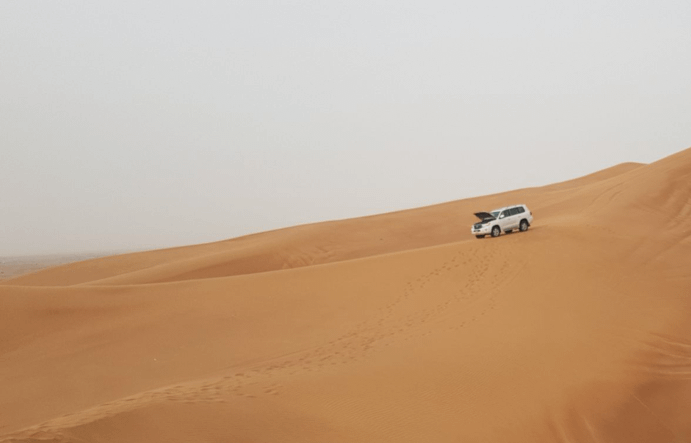 Our Opinion
Based on some rough calculations, owning a car is the cheaper option in most cases – as long as you're not planning to stay for more than a couple of years. The main concern with owning a car is dealing with variable maintenance costs, and the time it takes to sell. Leasing seems to be the better option for those planning to stay in Dubai for only a short period of time
Personally, I believe the best option for new Dubai expats is to lease a car for 3-6 months, and then purchase a car once they have adjusted to living in the UAE. The initial priorities should be arranging housing, school and impressing your new boss.
Stay Updated!
Sign up here to get the latest news, updates and offers delivered to your inbox.
You can also stay updated by following me on Instagram, Facebook, Twitter and Pinterest.